Teens. They grow, they leave (ok yes, sometimes they come back again before finally getting out of your hair) and there you are. Finding yourself with a spare bedroom, or two, that can be refurbished into a craft room, washing pile room or whatever the space might be most useful as without a smelly teen in residence. Life becomes different.
But it's not only inside your home (and heart) that changes when the kids grow and go.
The mum taxi can finally be decommissioned for good. No more ferrying half the soccer team to carnivals, picking them up from the part time job close to midnight…. and thank God the boot is no longer full of skateboards, scooters, netballs, or school bags. In fact, when your teens are all moved out, the family wagon seems as big and as lonely as the house.
Dry your tears though because this isn't a sad or sentimental story… I've got something fun and exciting to write about and a big shout out must go to Toyota Sunshine Coast for the Yaris Cross experience today, I had a blast! Oh. What. A. Feeling.
When the grown kids pull out of the driveway in their first car, toot your own horn mum as it's time YOU can start thinking about a car you'd like to drive…. rather than the sensible kid-mover-machine you've possibly felt tied to in the past. Wellllllll, hello new Toyota Yaris Cross hybrid, you are very much a car I'd love to choose for myself.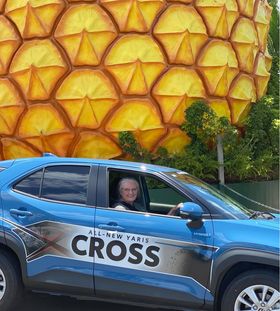 After grabbing the Yaris this morning I took it for a spin, and decided to visit a couple of iconic Sunshine Coast locations to see how she'd handle the highway as well as darting around town.
Verdict? A very fun and smooth ride.
Much, much zippier than my Subaru Forrester… and to my surprise the driver and passenger interior seemed even roomier than the Subaru. Not as much space in the back seat area of course, but who cares as this would be a car for ME and the whole idea would be to not have it loaded with kids and their kid crap.
Quiet as a mouse, the engine makes no sound upon ignition and while that was a little spooky at first I soon got used to it. Being a hybrid, I hardly used any fuel during my zigzagging the coast because the engine charges as it drives and so doesn't need plugging in to a power source overnight. I think that's a huge win for convenience and sustainability. I really think the hybrid has to be the way of the motoring future.
Did it have all the bells and whistles I was anticipating? Yes'm, all of them and probably more.
super easy to connect my phone and import contacts – made hands free calling a breeze
great in-car navigation screen plus most controls are also on the steering wheel
awesome safety features to eliminate the blind spot and lane warnings too
superior reversing camera – made backing into a parking spot at the coffee shop dead easy
speedo easy to read and real time road speed limits to keep you driving responsibly
Mostly though, for someone who has spent years driving kids here, there and everywhere (….. because I've had to drive kids here, there and everywhere) it was FUN driving the Yaris Cross. It felt sporty, yet safe and substantial…. it was light to drive, yet solid on the road. Not too big, not too small, spacious and not cramped but most of all it's a joy to drive.
If you're on the Sunny Coast (or close by) and ready to ditch the family mover to transition into a new YOU car, I'd honestly recommend having a chat to the awesome Nambour team at Sunshine Coast Toyota and getting them to walk you through the features of the new Yaris. I think you'd love it as much as I did!
This sponsored post is my honest opinion and has not been influenced by any third party. Please refer to the disclosure statement for further information.